West Virginia University
Location :
West Virginia University (WVU) is a university located in Morgantown, West Virginia.
It's the main and the biggest thing in Morgantown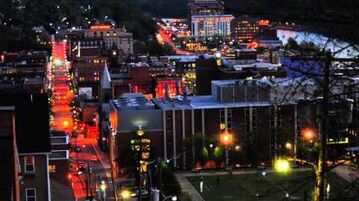 , there is 1600 of international students in this university from 100 countries.
WVU Rank: 30 30th Best Buy College
94 Top 100 Public University


15 Top 15 in Rhodes Scholarships


1 Number 1 Hospital in West Virginia


90 90th Best Undergraduate Business School


20 Top 20 "Best Places to Work"


23 23rd Best school for engineering graduates


15 Top 15 graduate program in sports management


7 7th Best Employer for Workers Over 50
What's Around The University
PRT : PRT is the abbreviated name for Personal Rapid Transit, a completely computerized transportation system. It consists of 70 electric cars that run on rubber Goodyear tires, and serves as a major means of transportation between WVU's Evansdale and downtown campuses. The cars are self-guided and travel along a raised track. For complete operating hours, it's the most common transport in Morgantown it helps a lot of student to arrive to the wvu, it's cover all the point of the town but it has some of problem it's broke down a lot of time so they must do some of repair to become better but it still good.
Evansdale :
Evansdale library located in the evansdale campus. The library holds a lot of subjects like art, computer science, education, engineering, forestry, music, physical education, and theater. Explore this web page for more information about collections and services.
https://www.libraries.wvu.edu/libraries/evansdale/
Downtown :
'It's located in the high street and main street. The main street is home to over 75 retailers, 35 Restaurants, Cafes and Tavems, 100 Profes'sional Business.
Downtown of Morgantown is a beautiful city with one of the strongest economies for small metro areas. In the main street is hosting it's 15th Annual Chocolate Lovers' Day on April 12,2014. There is so many sightseen in downtown, Such as Monongalia Arts Center and you can go and visit the University of WV because it's a sightseen also.
There are a lots of activities to do in Downtown specialy in high street and other places in Downtown. For instance, The Mountainlair Center it's located in 1550 University Ave, Morgantown, WV 26505. It has a lots of sections to see and to play also! Such as Bowling Center located on the ground floor. Along with Bowling, the Games Area offers 11 full sized competitions level billiards. What is more! there are many night clubs and so many restaurats to go and eat delicious foods. Moreover there is one Museum of Art in high street if you were interesting in painting!
There are a lots of improvments that Downtown should have it. Such as, building more stores with popular brands like Aldo, Apple store, and Newyork stuff. Also fixing roads will be better therefore the car engines won't damage.