Rawaa is one of my  classmates ,she is from oman ,she is 18 years old .
The most special thing in Rawaa's life is that her mother survived from a car accident while she was pregnent in rawaa in 7th month .
She had a big car accident that forcd her to get birth of rawaa .She was  a small new baby born buecase of that thay keeped her on the incubator premature infants.
Her mom could not see her for whole month but after 2 monthes she started to depend on her salf .
Now rawaa is one of WVU students she came here to achieve her dream .
(Rawaa, parsonal communication, february,14,2014 )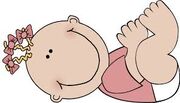 .