After the escaping, Mrs. Frisby can sleep peacefully because her house was moved and Timothy is better. Brutus comes and asks Mrs. Frisby go with him to the rat's cave to talk completely about what she heard from Mr. Fitzgibbon. All of the rats gather toghether in the meeting room. Mr. Fitzginnon said it was a group of six or seven rats. Jenner has a group of seven. Nicodemus hopes it's not Jenner's. Mr. Fitzgibbon did not mention anything about the men who will come but Nicodemus thinks they are from NIMH.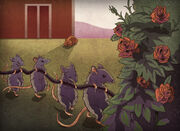 Nicadimus thank mrs frisby that she tell him what she oveheared from the man. Nicodimus explain for them to leave without much food. Most of the rats will leave thorn valley. The government stooge is likely from NIMH as the rats conclude.
Nicodemus shocked because the plan will change. They have to think carefully. Nicodemus felt tired. The will go to the thorn valley. They planned to destroy the gas truck. Mrs.Frisby with 50 rats waiting behind her. Isabella cried that she did not want to leave Justin. Some rats died because of the rats and Mrs.Frisby felt sad.