Mrs. Frisby was nervous when she start expain about Timothy and moving day
She talked about the farm and hw ask her wich farm exactilly you mean, then the Owl told her there is no way to save her house and Mrs.Frisby get sad and fear.
The Owl told her that they absoloutly have to move and Timothy must keep warm, but she have move as sson as possible, or all the children going to die in the cement block.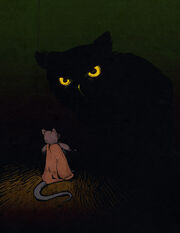 He wish her a goodnight,but before she goes he ask her about her name, when she told him her name is Mrs.Frisby, he marvels up with interest.
He ask her if she related to Mr.Jonathan Frisby, which she confirm that he is her husband, well that infromation change thing.
The Owl told her to go and see the rats  whom lives in the rosebush and tell them that he said that the house needs to be moved into "the lee of the stone".  That way the house will be safeand protected from the plowing and the rest of the familt can wait till Timothy get better enough to move.
The owl asked her if she known  Jonathan Frisby she said she is his widow. Owl said to Mrs. Frisby to go to the Rats, and the owl helped her and wishes her luck because he known her husband, and then the owl told her where to go and then he asked her to follow him. Jeremy was waiting for her. Jeremy helped Mrs. Frisby and asked her if she needs any thing.